What Is The Best Website Conversion Testing Practice?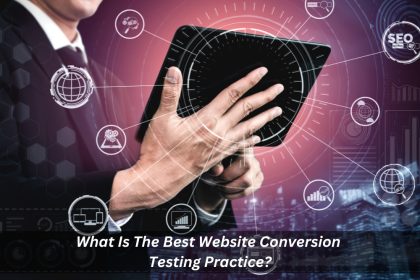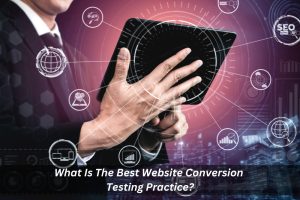 Are you seeking to enhance your website's performance and boost online sales? To achieve these goals, you must adopt the conversion rate optimisation best practice. Conversion rate optimisation (CRO) stands as the cornerstone for transforming more website visitors into paying customers. This comprehensive guide delves into what CRO is, its paramount importance in professional eCommerce website design, the various types of website conversion tests, selecting the most suitable one for your requirements, implementation strategies, result analysis, and the top practices for achieving effective CRO. Let's delve into the realm of conversion rate optimisation best practices and discover how they can supercharge your online business.
What is conversion rate optimisation (CRO)?
Conversion rate optimisation (CRO), often abbreviated as CRO, involves the systematic enhancement of your website with the aim of boosting the proportion of visitors who perform desired actions, such as completing a purchase, subscribing to a newsletter, or seeking information. The ultimate objective of CRO is to optimise your website's value by enhancing its conversion rate.
In essence, CRO is about fine-tuning your website to ensure it performs at its best, driving more revenue and achieving your business objectives. It's not just about attracting more visitors; it's about making the most out of the ones you already have.
Why is CRO important for professional eCommerce website design?
CRO is particularly vital for professional eCommerce website design because it directly impacts your bottom line. Here are some compelling reasons why CRO should be at the forefront of your eCommerce strategy:
Boosts revenue:

CRO can significantly

increase sales

without increasing your advertising budget, resulting in a higher ROI.

Enhances user experience:

A well-optimised website not only converts more visitors but also provides a better user experience, leading to

improved customer satisfaction

and loyalty.

Competitive advantage:

In the highly competitive eCommerce landscape, CRO can give you a distinct advantage by

making your website stand out

and attract more customers.

Data-driven decisions:

CRO relies on data and testing, allowing you to make informed decisions based on user behaviour, reducing guesswork, and increasing the effectiveness of your design changes.

Reduces cart abandonment:

Cart abandonment is a significant challenge in eCommerce.

Effective CRO strategies

can help reduce abandonment rates, leading to more completed purchases.
In summary, CRO is not just a luxury for eCommerce businesses; it's a necessity for sustainable growth and success.
What are the different types of website conversion tests for the best practice in conversion rate optimisation?
Conversion rate optimisation best practice begins with website conversion tests, as they enable you to pinpoint necessary changes for enhancing your conversion rates. Here are the primary types of website conversion tests:
A/B testing –

Often referred to as split testing

, this process involves the comparison of two web page versions to ascertain which one yields superior conversion performance. One version, known as the control, remains unaltered, while the other, referred to as the variant, incorporates the changes you wish to assess. By randomly presenting these versions to your visitors, you can gauge which one results in higher conversion rates.

Multivariate testing –

It is similar to A/B testing but focuses on individual elements, like headlines, images, or call-to-action buttons. Multivariate testing allows you to assess which combination of elements works best to

boost conversions

.

Heatmap testing –

This involves using software to track and visualise user interactions on your website. Heatmaps provide insights into where users click, move their cursors, and spend the most time. This information helps you identify areas that may need improvement to enhance the user experience and drive conversions.

User session recordings –

User session recordings are a way to observe how visitors navigate your site in real-time. These recordings capture mouse movements, clicks, scrolls, and other interactions. By watching these recordings, you can gain a deeper understanding of user behaviour and identify obstacles that may be hindering conversions.
How to choose the right website conversion test for your needs in order to achieve the best practices in conversion rate optimisation?
Selecting the right website conversion test depends on various factors, including your goals, resources, and the specific elements you want to test. Here's a step-by-step guide to help you make the right choice:
Define your goals: I

dentify specific, measurable goals for each test. Are you trying to increase product sales, generate leads, or improve user engagement? Your goals will guide your testing strategy.

Assess resources:

Consider your available resources, including

time, budget, and personnel

. Choose tests that align with your capabilities.

Identify testable elements:

Determine which elements on your website you want to test. Are you interested in testing headlines, images, buttons, or overall page layouts? Make a list of these elements.

Prioritise tests:

Start with tests that are likely to have the most significant positive effect on conversions. Prioritising ensures you focus on what matters most.

Consider testing duration:

Factor in the required testing duration when making your selection. Some tests may need to run for an extended period to yield reliable results.

Consult with experts:

If you're unsure which test is suitable for your needs, consider consulting with CRO experts who can provide guidance and recommendations based on your specific situation.
Remember that CRO is an ongoing process, and you can continue to test and optimise even after achieving initial improvements.
What constitutes the optimal approach for enhancing conversion rates?
The conversion rate optimisation best practice involves a blend of continuous CRO initiatives, user-centric design, and data-driven decision-making. Below are some fundamental principles to adhere to in this realm:
Continuous testing:

CRO is not a one-time effort; it's an ongoing process. Continuously test and refine your website elements to adapt to changing user behaviour and market trends.

User-centric design:

Put your users at the forefront of your website design. Prioritise their needs, preferences, and pain points. A user-centric approach leads to higher satisfaction and better conversions.

Data-driven decisions:

Base your decisions on data and analytics, not assumptions or gut feelings. Let user behaviour and testing results guide your design and optimisation efforts.

Mobile optimisation:

With the increasing use of mobile devices, ensure that your website is fully optimised for mobile users. Mobile-friendly design can significantly impact conversion rates.

Page speed:

Improve the loading speed of your website. Sluggish page loading can result in increased bounce rates and reduced conversion rates.
How can a professional eCommerce website design help you improve your conversion rates?
A professional eCommerce website design can play a crucial role in enhancing your conversion rates. Here are some ways it can make a difference:
User-friendly navigation:

Intuitive navigation makes it easy for users to find products or information, reducing

frustration

and encouraging conversions.

Mobile responsiveness:

A responsive design ensures your website functions flawlessly on mobile devices, increasing conversions from mobile users.

High-quality visuals:

Professional designs showcase products effectively with high-quality images and visuals, boosting sales and engagement.

Clear calls to action:

Strategic placement of clear and compelling calls to action prompts visitors to take desired actions, such as making a purchase or subscribing.

Trust signals:

Professional designs include trust-building elements like customer reviews and security badges, instilling confidence in potential buyers.

Load speed optimisation:

A professionally designed website loads quickly, retaining visitors and reducing bounce rates.

A/B testing integration:

Professional eCommerce designs often include built-in capabilities for A/B testing, simplifying CRO efforts.
Incorporating these design elements can have a significant impact on your conversion rates, turning more visitors into satisfied customers.
Conclusion
In the competitive online landscape, website conversion testing practices are indispensable for businesses looking to maximise their online success. Conversion rate optimisation (CRO) is the key to unlocking your website's potential and driving more revenue. By understanding the different types of tests, choosing the right ones, implementing them effectively, analysing results meticulously, and following best practices, you can continuously improve your website's conversion rates. Combine these efforts with a professional eCommerce website design, and you'll be well on your way to achieving your online business goals. Start optimising your website today, and watch your conversions soar.
Ready to take your eCommerce business to the next level? At Nifty Websites Australia, we specialise in professional eCommerce website design that's not only visually stunning but also optimised for maximum conversion rates. Our team of experts is well-versed in the latest CRO techniques, ensuring that your website doesn't just look great but also performs exceptionally well. Don't settle for a mediocre online presence—partner with us to transform your website into a conversion powerhouse. Let's work together to boost your ROI, enhance user experience, and stay ahead of the competition. Contact us today and embark on the journey towards eCommerce success with Nifty Websites Australia. Your website deserves to be as nifty as your business.