How Does Best UX Design Impact Website Conversion Rates?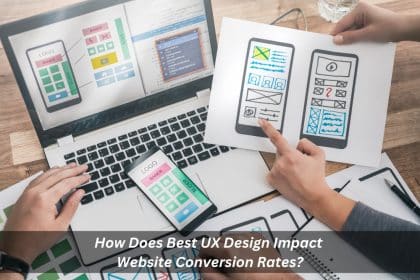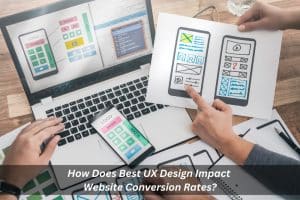 In today's fiercely competitive digital landscape, businesses recognise that implementing the best website UX design is pivotal for attracting and retaining customers. However, a common and significant question arises: "How does the best website UX design affect website conversion rates?" In this extensive guide, we will delve into the profound impact of UX (User Experience) design on your website's conversion rates and illustrate how the integration of the best website UX design practices can yield remarkable results.
Why Does UX Design Matter for Websites?
Before we delve into the impact, let's understand why UX design holds such significance in the realm of website development.
The essence of UX design lies in its user-centred approach. It places the user's needs, preferences, and expectations at the forefront of web development. This approach acknowledges that a website's primary purpose is to serve its users effectively. A website that caters to its users' demands is more likely to succeed in achieving its goals, whether that's making sales, generating leads, or disseminating information.
The first few seconds a user spends on your website can make or break their experience. The best website UX design ensures that these critical moments are not marred by confusing layouts, slow load times, or other barriers to entry. It strives to create an enticing and welcoming environment that encourages users to stay, explore, and engage.
User Retention and Loyalty
A website with an exceptional user experience is more likely to retain visitors and convert them into loyal customers. When users find it easy to navigate, locate information, and complete tasks on your site, they are more inclined to return in the future. This recurring engagement can significantly impact your conversion rates over time.
How Does it Enhance User Engagement?
Now, let's dig deeper into the specific ways the best website UX design enhances user engagement:
The navigation structure of your website is akin to a roadmap for users. The best UX design ensures that this roadmap is clear, concise, and user-friendly. When users can easily find the content or products they seek, they are more likely to stay on your site, explore further, and eventually convert.
The ubiquity of mobile devices in our lives cannot be ignored. The best website UX design prioritises mobile responsiveness, ensuring that your website functions seamlessly on smartphones and tablets. This adaptability not only enhances engagement but also positively impacts your search engine rankings, as search engines favour mobile-friendly websites.
Optimised Page Load Times
Impatience is a common trait among online users. Slow-loading pages can frustrate visitors and lead them to abandon your site. The best UX design places a premium on optimising page load times, leveraging techniques like image optimisation and efficient coding to ensure that your web pages load swiftly. This not only improves user engagement but also reduces bounce rates.
How Does Best Website UX Design Build Trust and Credibility?
A crucial aspect of converting visitors into customers is building trust and credibility. Here's how the best website UX design contributes to this vital facet:
A well-designed website exudes professionalism. When users land on a site that looks polished and well-maintained, they are more likely to trust the information and offerings presented. A haphazardly designed website can raise doubts about the credibility of your business.
The best UX design ensures that your messaging is concise, clear, and easy to understand. Users appreciate websites that don't overwhelm them with unnecessary jargon or convoluted explanations. When your message is straightforward, users are more likely to trust and engage with your content.
Visual elements play a significant role in shaping user perception. The best website UX design pays careful attention to aesthetics, using visually appealing layouts, colours, and graphics that resonate with your target audience. A visually appealing website can captivate visitors and make a positive, lasting impression.
What is the Influence of Optimal Website Ux Design on Conversion Rates?
Now, let's address the central question: how does the best website UX design affect conversion rates?
Streamlined Conversion Paths
The best UX design identifies and streamlines conversion paths, making it easy for users to take desired actions, such as making a purchase, signing up for a newsletter, or requesting a quote. It eliminates unnecessary steps and distractions that can divert users from the conversion goal.
Friction in the user journey can be a significant barrier to conversions. Complex forms, unclear CTAs (Call to Actions), or hidden checkout buttons can deter users from completing desired actions. The best UX design simplifies these processes, minimising friction and increasing conversion rates.
Implementing the best UX design often involves continuous improvement through A/B testing. This technique allows you to test various design elements, layouts, and content to determine what resonates best with your audience. By collecting and analysing real user data, you can refine and optimise your website for better conversions.
How Can the Service of Website Design Enhance UX?
Let's explore how enlisting the service of website design professionals can further enhance the UX of your website:
Website design professionals bring expertise in design principles, user behaviour, and industry trends to the table. They stay updated with the latest design practices and can apply them effectively to your website, ensuring that it meets modern user expectations.
Each business possesses its own distinct qualities, and your website must mirror those specific brand identities and objectives. The services of website design encompass tailoring your site precisely to your intended audience and industry. Through this personalised approach, the UX is optimised by harmonising it with the preferences and needs of your users, which are key qualities of a good website design.
Design professionals are well-versed in creating responsive designs that adapt seamlessly to various devices and screen sizes. This ensures that your website delivers a consistent and user-friendly experience, regardless of whether users access it on a desktop, smartphone, or tablet.
Conclusion
In conclusion, the impact of the best website UX design on conversion rates cannot be overstated. A user-friendly, aesthetically pleasing, and efficient website can significantly boost user engagement, trust, and ultimately, conversions. To harness these benefits, consider investing in professional website design services that specialise in delivering the best UX design practices.
Keep in mind that within the digital realm, user experience isn't merely a feature; it's a strategic edge. When you place a premium on top-notch UX design, you're not only enhancing your website's conversion rates but also laying the groundwork for sustained success in the online marketplace. This means, despite the initial design costs and the ongoing need for continuous optimisation efforts, you're poised to tackle mobile responsiveness challenges and ensure your website excels in meeting user expectations.
Ready to transform your website into a conversion powerhouse? At Nifty Websites Australia, we specialise in crafting a good UX design to supercharge your online presence. Our expert designers are committed to creating intuitive, mobile-responsive, and visually stunning websites that not only engage visitors but also convert them into loyal customers. Take the first step towards boosting your conversion rates and building trust with your audience by partnering with us. Don't settle for an average website when you can have the best. Contact Nifty Websites Australia today, and let's embark on a journey to redefine your digital success!