How To Find Out What's Slowing Down Your Website?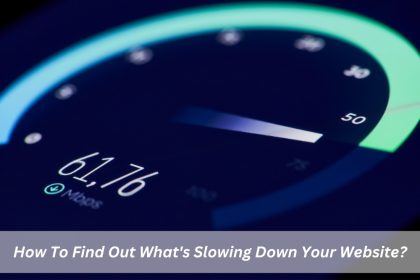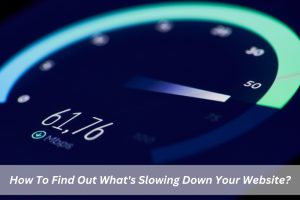 In the fast-paced digital world, a slow-loading website can be the kiss of death for your online presence. Research has shown that even a one-second delay in page load time can lead to a significant drop in user engagement and conversions. It's no wonder that website owners are increasingly concerned about their website's performance. If your website seems to be crawling rather than sprinting, it's time to roll up your sleeves and get to the bottom of the issue. In this comprehensive guide, we will delve into the key steps to identify and rectify website performance issues, ensuring that your site is firing on all cylinders. Plus, we'll touch upon the essential service of Professional Web Design that can help optimise your site's performance.
 Why is website speed crucial for success?
Before diving into the nitty-gritty of identifying website performance issues, let's understand why website speed is a make-or-break factor in the digital world. A slow website can lead to:
High bounce rates:

Visitors tend to abandon a slow-loading website, resulting in a

higher bounce rate

and lost potential customers.

Poor search engine ranking:

Search engines like Google factor in website speed when determining search rankings. A slow website may languish in the

lower search results

.

Reduced conversions:

The

consequences of slow website speed

often manifest as a decrease in conversions, with users frequently losing their patience either during the checkout process or while navigating the site.

Negative user experience:

Slow websites frustrate users, damaging your brand's reputation and leading to

decreased user engagement

.
What are the common symptoms of website performance issues?
Website performance issues can manifest in various ways. Identifying these symptoms can be the first step in diagnosing the problem:
Slow page load times:

If your website takes more than a few seconds to load, it's a red flag.

High bounce rates:

An unusually high bounce rate may indicate that visitors are leaving your site due to performance issues.

Low average session duration:

If users are spending very little time on your site, it could be because of slow loading times.

Decreased conversion rates:

A drop in conversions may be linked to sluggish site performance.
How to assess your website's current performance
To pinpoint the issues affecting your website's speed, you need to start by assessing its current performance. Here are some tools and steps you can take:
Page Speed Insights:

Google's PageSpeed Insights tool analyses your website and provides suggestions for improvement.

Pingdom:

It offers a website speed test that highlights areas for optimisation.

GTMetrix:

It provides a detailed report on your website's performance, including suggestions for enhancements.
What are the common causes of website performance issues?
Identifying the root causes of your website's sluggishness is crucial. Common culprits include:
Large images:

High-resolution images that haven't been properly optimised can slow down your website.

Excessive plugins:

Too many plugins, especially poorly coded ones, can lead to performance bottlenecks.

Unoptimised code:

Bloated or unoptimised code can hinder your website's speed.

Server issues:

Your hosting server's performance and capacity play a significant role in how fast your site loads.
How to optimise your website's images
Images are often the heaviest elements on a website, and optimising them can drastically improve load times:
Resize images:

Ensure that images are appropriately sized for their display dimensions.

Compress images:

Use image compression tools to reduce file sizes without sacrificing quality.

Leverage browser caching:

Set up caching to allow browsers to store images locally and load them faster on subsequent visits.
How to streamline your plugins
While plugins can add functionality to your website, they can also slow it down. Here's how to manage them effectively:
Audit your plugins:

Regularly review and uninstall unnecessary or redundant plugins.

Update plugins:

Keep your plugins up to date to benefit from performance improvements and security fixes.

Choose lightweight plugins:

When adding new features, opt for lightweight plugins that won't drag down your site's speed.
How to optimise your website's code
Efficient code is essential for a fast-loading website. Here are some tips for optimising your website's code:
Minify CSS and JavaScript:

Use tools to remove unnecessary spaces and characters from your code.

Reduce HTTP requests:

Combine multiple CSS and JavaScript files into one to minimise the number of requests.

Enable GZIP compression:

Enable GZIP compression to reduce the size of data transferred between the server and browser.
The Role of Professional Web Design in enhancing website performance
Professional Web Design services play a pivotal role in optimising your website's performance. Here's how:
Customised design:

Professional web designers can create a tailored design that prioritises speed and user experience.

Responsive design:

They ensure your website is responsive across all devices, enhancing user satisfaction.

Code optimisation:

Professional designers are adept at writing clean, efficient code that contributes to faster load times.

Regular maintenance:

They can provide ongoing maintenance to keep your website's performance consistently high.
How to Monitor and maintain website performance
After implementing optimisations, it's crucial to monitor your website's performance continually:
Google Analytics:

Set up goals and track key performance metrics to gauge the impact of your improvements.

Regular testing:

Periodically retest your website's speed to catch any new performance issues.

Content Delivery Network (CDN):

Consider using a CDN

to distribute content efficiently and reduce server load.

Security measures:

Ensure that your website is secure to prevent malicious activity that can slow it down.
When to seek Professional help
If, despite your best efforts, your website performance issues persist, it may be prudent to consider seeking professional assistance. Experienced web developers and performance optimisation experts have the expertise to delve deeper into the problem and offer customised solutions, understanding that website speed is important for overall success.
Conclusion
A slow website can cost you visitors, conversions, and revenue. Identifying and resolving website performance issues is not just a matter of speed; it's essential for a positive user experience and search engine visibility. By following the steps outlined in this guide, you can uncover the root causes of sluggishness and take action to optimise your website's performance. And don't forget, the service of Professional Web Design can be a game-changer in ensuring your website is fast, efficient, and ready to deliver exceptional user experiences. So, get started today and watch your website thrive in the digital landscape.
Don't let website performance issues hold your online success back any longer. At Nifty Websites Australia, we provide assistance in Professional Web Design and optimisation services that will supercharge your website's speed and user experience. Take action today and ensure your website is a high-speed performer that captivates your audience and drives results. Contact us now for a free consultation, and let's turbocharge your online presence!