Is It Necessary To Have A Blog On Your Restaurant Website?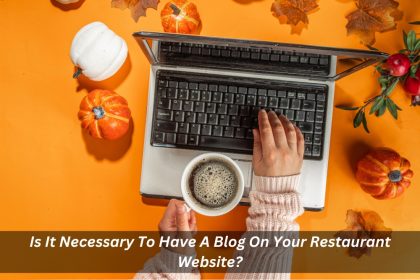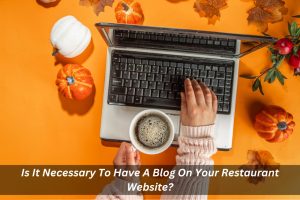 If you own a restaurant and you're wondering whether having a blog on your website is necessary, the short answer is yes. In today's digital age, a blog can be a powerful tool to boost your restaurant's online presence, engage with customers, and ultimately increase your revenue. In this article, we'll explore the benefits of having a restaurant blog, how it can attract new customers, help you build relationships with existing ones, improve your website's SEO, and provide you with tips on starting and maintaining a successful blog.
What are the benefits of having a restaurant blog?
Having a blog on your restaurant's website offers numerous benefits that can have a positive impact on your business. Here are some of the key advantages:
Showcase your expertise –

A restaurant blog allows you to showcase your culinary expertise and passion for food. You can share insights into your menu, cooking techniques, and the story behind your dishes. This not only builds credibility but also helps customers understand what makes your restaurant unique.

Connect with your audience –

Blogs provide a platform for you to connect with your audience on a personal level. You can share stories about your restaurant's history, introduce your staff, and share behind-the-scenes moments. This humanises your brand and makes customers feel more connected to your restaurant.

Promote specials and events –

Utilise your blog as a platform to publicize exclusive promotions, upcoming events, and seasonal menu offerings. By doing so, you can generate a feeling of immediacy and anticipation among your clientele, motivating them to become more frequent diners at your restaurant.

Improve customer loyalty –

Regularly updating your blog keeps your customers engaged and interested in your restaurant. By providing valuable content, you can

foster customer loyalty

and turn one-time visitors into regular patrons.

Differentiate your restaurant –

A well-written blog can help you

stand out in a competitive market

. Share the story of your restaurant's origins, your commitment to using local ingredients, or your unique approach to cuisine. Highlight what makes your establishment special.

Boost SEO –

Search engines love fresh and relevant content. A blog is an excellent way to continually add new content to your website, which can

improve your search engine ranking

. When potential customers search for restaurants in your area, having a blog can help you appear higher in search results.
How can a blog help you attract new customers?
Attracting new customers is essential for the growth of your restaurant. Here's how a blog can help you do just that:
Local SEO optimisation –

When you write blog posts about topics related to your restaurant and its location, you can optimise them for local SEO. This means that when people in your area search for restaurants or specific cuisines, your blog posts are more likely to appear in their search results.

Social media sharing –

Engaging and informative blog content is highly shareable on social media platforms. When your existing customers share your blog posts, it exposes your restaurant to a wider audience, potentially attracting new customers who might not have discovered you otherwise.

Targeted content –

One of the

steps to building a great small business website

involves crafting a blog that caters to the specific interests of potential customers. For instance, if your restaurant specialises in vegetarian cuisine, you can create blog posts centred around vegetarian recipes, highlighting their health benefits and offering dining tips. By doing so, your content can effectively draw in individuals actively seeking vegetarian options.
How can it help you build relationships with existing customers?
Building strong relationships with your existing customers is crucial for repeat business and word-of-mouth recommendations. Here's how your blog can help with that:
Engagement and interaction –

Encourage your customers to interact with your blog by leaving comments and sharing their experiences. Respond to their comments promptly and engage in conversations. This shows that you value their feedback and want to connect with them personally.

Exclusive offers –

Use your blog to reward your loyal customers with exclusive offers and discounts. Announce these promotions on your blog, and let your regulars know they're getting something special for being part of your restaurant community.

Customer stories –

Share customer stories and testimonials on your blog. Highlight positive experiences and showcase how your restaurant has made a difference in their lives. This not only builds trust but also encourages other customers to share their stories.
How can a restaurant blog help you improve your website's SEO?
Having a blog can significantly enhance your website's search engine optimization (SEO). Here's how it works:
Fresh content –

Search engines like Google give preference to websites that regularly update their content. By consistently publishing blog posts, you signal to search engines that your website is active and relevant, which can lead to higher rankings in search results.

Keyword optimisation –

Each blog post provides an opportunity to target specific keywords related to your restaurant, cuisine, and location. When you incorporate these keywords naturally into your content, it helps search engines understand what your website is about and improves your chances of ranking for those terms.

Backlinks –

High-quality blog content is more likely to attract backlinks from other websites. When reputable websites link to your blog posts, it not only drives traffic but also signals to search engines that your content is valuable and trustworthy, further boosting your SEO efforts.
How can you start a blog?
Starting a restaurant blog is relatively straightforward. Here are the steps to get you started:
Choose a blogging platform –

Select a user-friendly

blogging platform such as WordPress

, Blogger, or Wix. These platforms offer easy-to-use tools for creating and managing your blog.

Pick a domain name –

Choose a domain name that reflects your restaurant's name or brand. Ensure it's easy to remember and type. You can register a domain name through various domain registrars.

Design your blog –

Select a clean and appealing design for your blog that aligns with your restaurant's branding. Use high-quality images and maintain a consistent visual style.

Plan your content –

Develop a comprehensive

content planning

strategy that delineates the subjects you aim to address. Factor in content planning for your menu, chef's specials, restaurant events, and any other captivating topics to engage your audience.

Write and publish –

Initiate your

writing effort

by crafting and releasing your blog posts. Strive for

consistency

, whether it's dedicating time to write once a week or pouring your writing effort into a monthly publication. Ensure that your posts are rich in information, captivating, and exemplify well-honed writing skills.

Promote your blog –

Share your blog posts on your restaurant's social media channels and email newsletters. Encourage your customers to subscribe to your blog to stay updated with your latest content.
What are some tips for writing successful restaurant blog posts?
To create successful restaurant blog posts, follow these tips:
Know your audience –

Understand your target audience's preferences and interests. Tailor your content to meet their needs, whether it's food enthusiasts, local diners, or tourists.

Use high-quality images –

Include mouthwatering images of your dishes. High-quality visuals can make your blog posts more appealing and shareable.

Share recipes and cooking tips –

Share some of your restaurant's signature recipes or cooking tips. This not only provides value to your readers but also showcases your culinary expertise.

Tell stories –

Narrative storytelling can captivate your audience. Share the history of your restaurant, anecdotes about your dishes, or personal experiences related to your culinary journey.

Encourage engagement –

Prompt readers to leave comments, ask questions, and share their own experiences. Engaging with your audience builds a sense of community around your blog.

Promote your blog –

Don't forget to promote your blog through your restaurant's social media accounts, email marketing, and in-house signage.
Conclusion
In essence, incorporating an effective blogging strategy into your restaurant's website is far more than just a fashionable notion; it represents a valuable asset that can aid you in drawing in new patrons, nurturing connections with your current ones, enhancing your website's SEO, and setting your restaurant apart in a competitive marketplace. By diligently adhering to these tips and maintaining your commitment to crafting engaging and informative content, your restaurant's blog can evolve into a potent tool for success in the culinary realm. So, embark on this journey today, and witness the flourishing of your restaurant's online presence through these effective blogging strategies.
Are you ready to take your restaurant's online presence to the next level? At Nifty Websites Australia, we specialise in creating stunning and user-friendly websites tailored to the hospitality industry. Whether you want to start a blog, showcase your menu, or improve your SEO, we've got you covered. Don't miss out on the opportunity to attract new customers, engage with your loyal patrons, and stand out in the competitive restaurant landscape. Contact us today to get started on your journey to a more successful and vibrant online presence for your restaurant! Your culinary adventure begins with Nifty Websites Australia.