Why Is It Crucial For Florists To Utilise A Website Builder?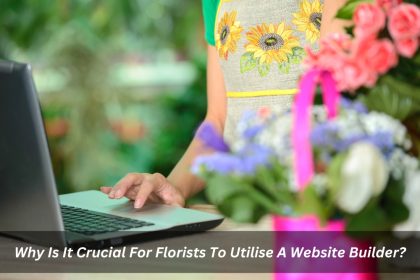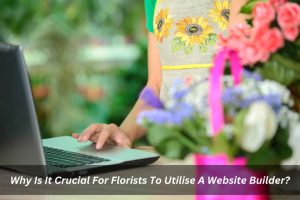 In today's digital age, a strong online presence is paramount for any business, including florists. While the fragrance of fresh blooms and the art of floral arrangements have remained timeless, the way customers discover and engage with florists has evolved dramatically. To stay competitive and capture a broader market, florists must embrace the digital realm. One of the essential tools in this journey is a website builder. In this article, we will explore why it is crucial for florists to utilise a website builder, what it entails, how it can help your business grow, the steps to choose the best website creator, and how to create a florist website using one. Additionally, we will delve into optimising your website for search engines, ensuring that you reach your target audience effectively.
What is a florist website builder?
It is a user-friendly, web-based tool that allows you to create and manage your website without needing advanced technical skills. Furthermore, it is a cost-effective alternative and offers a range of customisable templates and features tailored to various industries, including floristry.
How can a florist website builder help you grow your business?
Professional online presence
Your website is the digital face of your florist business. A professionally designed and maintained website reflects your dedication to quality, which can attract potential customers. Florist Website builders offer stunning templates, customisation options, and user-friendly interfaces that help you create an appealing online presence.
Showcase your unique floral arrangements
For florists, the visuals are everything. It allows you to display your exquisite floral creations in high-resolution images, ensuring that potential customers can appreciate the artistry and uniqueness of your work. You can also add features like image galleries and sliders to showcase your latest designs.
Many website builders offer e-commerce features that enable you to sell your floral products online. This not only expands your customer base but also provides an additional revenue stream. Whether you want to sell bouquets, or arrangements, or even offer a flower subscription service, a website builder can facilitate these transactions securely.
Contact and booking forms
It includes built-in contact and booking forms, making it easy for customers to inquire about your services or schedule appointments. Generally, streamlining this process can lead to more inquiries and conversions.
Blogging and content marketing
You can use it to build and manage a blog, a crucial asset for content marketing. Share tips on caring for flowers, ideas for floral arrangements, and other related content. Furthermore, this positions you as an expert in the field and enhances your website's SEO, making it simpler for potential clients to discover you.
In an era where most internet browsing occurs on mobile devices, having a mobile-responsive website is essential. Florist Website builders ensure your site looks and functions beautifully on smartphones and tablets, enhancing the user experience and search engine rankings.
Integrating your social media accounts with your website is seamless with a website builder. Moreover, this helps you stay connected with your audience and encourages sharing, which can expand your online reach.
How to choose the best website builder for your needs
Selecting the right website builder is crucial for your florist business. Consider the following factors when making your choice:
Opt for a website builder with an intuitive interface that allows you to design and update your site with minimal technical know-how. Also, drag-and-drop editors and pre-designed templates are helpful features.
Your website should reflect your brand and style. Ensure the builder you choose offers ample customisation options, from fonts and colours to layouts and functionalities.
If you plan to sell your floral products online, look for a builder with robust e-commerce features. Additionally, it should support secure payment processing and inventory management.
Confirm that it produces mobile-responsive designs, as a large portion of your audience will visit your site from their phones.
Opt for a builder with built-in SEO tools or the ability to integrate with SEO plugins. This will help improve your website's visibility in search engines.
Consider your budget and evaluate the pricing structure. Some offer free plans with limitations, while others have premium packages with additional features.
Good customer support can be a lifesaver when you encounter issues or need assistance. In addition, ensure your chosen website builder offers responsive support through various channels.
How to create a website
Once you've selected a website builder, follow these steps to create your florist website:
Choose a domain name –

Select a valid domain name

that represents your florist business and is easy to remember. Many website builders offer domain registration as part of their services.

Select a template –

Pick a template that suits your florist business. Customise it to match your branding, using your logo, colors, and fonts.

Add content –

Start adding content to your website. Include information about your services, your floral arrangements, your team, and contact details. Also, don't forget to upload high-quality images of your work.

Set up e-commerce –

If you're selling products online, set up your e-commerce functionality. Configure product listings, pricing, and payment options.

Optimise for SEO –

Optimise your website for search engines by using relevant keywords in your content, optimising images, and configuring meta tags. This will help your site rank higher in search results.

Test and launch –

Before launching your website, thoroughly test it to ensure that all links work, forms function correctly, and the site displays well on various devices. Once you're satisfied, go ahead and publish your site.
Tips for optimising your florist website for search engines
Seo is essential for driving organic traffic to your florist website. Here are some tips for optimising your site:
Keyword research –

Identify relevant keywords related to floristry and use them naturally in your content, headings, and meta tags. Furthermore, tools like Google Keyword Planner can help you find suitable keywords.

High-quality content –

Produce informative and engaging content that addresses the needs and interests of your target audience. Blog posts about floral care, seasonal arrangements, and gifting ideas can attract visitors and keep them engaged.

Local SEO –

Optimise your website for local search by including location-specific keywords, creating a Google My Business listing, and encouraging customer reviews.

Mobile optimisation –

Make sure your website appears and works smoothly on mobile devices, as it significantly impacts search engine rankings.

Image optimisation –

Compress and optimise images to improve loading speed. Use descriptive file names and alt tags for images to make them more search engine-friendly.

User experience –

A user-friendly website that is easy to navigate and loads quickly contributes to better search engine rankings. Avoid large, intrusive pop-ups and ensure that your site is accessible to all users.

Link building –

Build a network of high-quality, relevant backlinks to your website. Collaborate with local businesses, participate in community events, and leverage social media to increase your online visibility.
Conclusion
In a competitive market, having a strong online presence is no longer optional for florists—it is essential for business growth. A well-designed website using a user-friendly website builder can help you showcase your floral artistry, attract a broader audience, and boost your sales. Furthermore, by selecting the right website builder, creating an engaging website, and optimising it for search engines, you can ensure that your florist business stands out in the digital landscape, reaching and delighting customers with your blossoming creations.
Ready to transform your florist business and bloom in the digital realm? Let Nifty Websites Australia be your trusted partner in crafting a captivating online presence. We can help you create a stunning website that showcases your unique floral arrangements, attracts a broader audience, and boosts your sales. Don't miss out on the opportunity to optimise your website for search engines, improving your online visibility. Take the first step towards growth and success in the digital age. Contact us today and let's make your florist business thrive online!