Does A Website Help To Increase Food Truck Sales?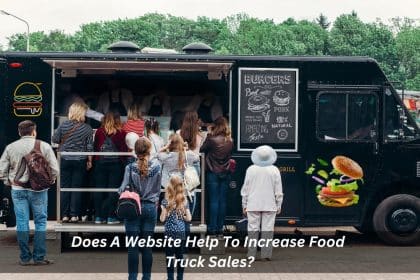 In Australia, food trucks have firmly established themselves as a beloved and ubiquitous part of the dining landscape. Offering a diverse range of delectable treats, from mouthwatering street food to gourmet cuisine on wheels, these mobile eateries face the challenge of declining food truck profits in an increasingly competitive market. To tackle this issue, many food truck owners are exploring innovative strategies to stand out and boost their sales. One solution that's gaining traction is having a well-crafted website. In this article, we'll explore whether a website can genuinely contribute to increasing food truck sales, how to use a website effectively, and the many benefits it can offer.
Can a website contribute to boosting sales for a food truck?
It's not uncommon for food truck owners to wonder if a website is worth the investment, especially when the heart of their business is on wheels. The truth is, that a website can play a crucial role in increasing food truck sales. Here's how:
Online visibility:

A website acts as your virtual storefront. When people are searching for food options in their area, a well-optimised website can make your food truck more discoverable. In today's digital age, people often turn to the internet to find dining options, and having a website can put you on their radar.

Credibility:

A professionally designed website can build trust with potential customers. It conveys that your food truck is legitimate, and people are more likely to try a new food spot if they can learn more about it online.

Menu showcase:

Your website is the perfect platform to showcase your menu with mouthwatering images and descriptions. By tantalising their taste buds online, you'll entice customers to visit your food truck in person.

Contact and location information:

A website can serve as an information hub, providing details about your food truck's location, hours of operation, and contact information. This makes it easier for customers to find and reach you.

Online ordering:

Providing online ordering and delivery services through your website can be a game-changer, especially for businesses that prioritise

limited personal interaction

. This approach aligns with the modern consumer's preference for convenience and has the potential to significantly boost your sales.

Feedback and reviews:

You can encourage satisfied customers to leave reviews on your website, which can help build your food truck's reputation and attract more customers.
How can you use a website to increase food truck sales?
Now that we've established the potential benefits of having a website for your food truck, let's explore how to use it effectively to boost your sales:
Responsive design:

Ensure your website is mobile-friendly. Many people search for food options on their smartphones, so your website should look and work well on smaller screens.

Engaging content:

Create engaging content that tells the story of your food truck. Share your journey, the inspiration behind your menu, and any unique features that set you apart.

High-quality visuals:

Use high-resolution images of your dishes. Nothing tempts a foodie more than a well-photographed meal. Professional food photography can be a worthwhile investment.

Menu display:

Your menu should be prominently featured on your website. Use clear and enticing descriptions to make customers' mouths water. You can even add an option for online ordering.

Contact information:

Make it easy for customers to get in touch. Include your food truck's contact number, email address, and a contact form on your website.

Location tracker:

Implement a location tracker or map so that visitors can find your food truck's current location with ease.

Social proof:

Display customer testimonials and reviews to build trust. Encourage satisfied customers to leave feedback on your website.
How can you create a website that will help to increase your food truck sales?
Building a website for your food truck might sound daunting, but it doesn't have to be. Here are some steps to get you started:
Choose a domain name:

Select a domain name that is easy to remember and reflects your food truck's name or theme.

Select a hosting provider:

Choose a reliable hosting provider that offers the resources and support you need for your website.

Website design:

Choose the right website design for your business

, one that boasts a clean and user-friendly layout, while also guaranteeing responsiveness to ensure it looks exceptional on both desktop and mobile devices.

Content creation:

Create engaging content that tells your food truck's story and showcases your menu. High-quality images of your dishes are a must.

Contact information:

Include clear and easily accessible contact information. Make it simple for customers to reach you.

Online ordering:

If feasible, set up an online ordering system to make it convenient for customers to order your food.

SEO optimisation:

Optimise your website for search engines by using relevant keywords and meta tags. This will help potential customers find your site when searching for food options in your area.
What are some tips for optimising your food truck website for search engines?
SEO (Search Engine Optimisation) is a critical aspect of making your website more visible to potential customers. Here are some SEO tips to optimise your food truck website:
Keyword research:

Identify relevant keywords that people use when searching for food trucks in your area. Incorporate these keywords naturally into your website's content.

Local SEO:

Focus on local SEO by including your city or region in your content and meta tags. This will help your website appear in local search results.

Mobile optimisation:

Ensure your website is mobile-friendly. Google prioritises mobile-friendly websites in its search rankings.

Page speed:

Improve your website's loading speed. Slow websites can deter visitors and negatively affect your search rankings.

Meta tags:

Write compelling meta titles and descriptions for each page on your website. These are the snippets that appear in search results, so make them engaging.

Quality backlinks:

Acquire quality backlinks from reputable websites in your industry or locality. Backlinks can boost your website's authority and search

ranking.
Regular updates:

Keep your website content fresh and up-to-date. Regularly posting blog articles about your food, your food truck's story, and related topics can help improve your SEO.
How can you use social media to promote your food truck website?
In today's digital age, social media is a powerful tool for marketing your food truck and website. Here's how to make the most of it:
Create profiles:

Establish a strong presence on popular social media platforms like Facebook, Instagram, and Twitter. Share engaging content regularly.

Visual content:

Post visually appealing images and videos of your food and your food truck. Visual content tends to garner more attention and engagement.

Engage with followers:

Respond to comments and messages promptly. Engaging with your audience fosters a sense of community and builds customer loyalty.

Promotions and giveaways:

Run promotions, giveaways, or special offers exclusively for your social media followers. This encourages more people to follow your profiles and visit your website.

Cross-promotion:

Partner with other local businesses or events to cross-promote each other. This can help you reach a broader audience and increase your website traffic.

Social sharing buttons:

Enhance your website's social connectivity by seamlessly integrating social sharing buttons. Empower your visitors to effortlessly share your enticing content across their social media networks, thereby amplifying your online presence and reaching an even broader audience.
How can you track the results of your website marketing efforts?
Tracking the performance of your website is crucial to understanding what's working and what needs improvement. Here's how you can monitor the results of your website marketing efforts:
Google Analytics:

Set up Google Analytics to track your website's traffic, user behaviour, and other valuable metrics. It provides insights into where your visitors are coming from and which pages they find most engaging.

Conversion Tracking:

Implement conversion tracking to monitor specific actions taken by visitors on your website, such as online orders or contact form submissions.

Social Media Insights:

Most social media platforms provide insights into how your posts are performing. Use these analytics to understand which types of content resonate with your audience.

Customer Surveys:

Conduct customer surveys to gather feedback about their experience with your website and your food truck. This can provide valuable insights for improvement.

A/B Testing:

Experiment with different website elements, such as layouts, call-to-action buttons, or menu displays. A/B testing can help you identify what resonates best with your audience.
Conclusion
In today's digital era, a well-designed website can be a powerful tool for increasing food truck sales. By boosting your online visibility, building credibility, showcasing your menu, and providing convenient options for customers, a website can help your food truck thrive in a competitive market. With the right strategies, including effective website design, SEO optimization, social media promotion, and tracking the results, you can leverage the power of the internet to grow your food truck business and satisfy the taste buds of more customers than ever before.
Ready to take your food truck business to the next level? At Nifty Websites Australia, we understand the unique challenges and opportunities that food truck owners face in the digital realm. With our expert team of designers and developers, we craft visually stunning and user-friendly websites that not only showcase your mouthwatering menu but also attract hungry customers to your truck. Let us help you create a virtual storefront that elevates your brand, boosts your online visibility, and increases your sales. Get in touch with us today to discuss how we can tailor a website specifically for your food truck business, and watch your online presence drive your success to new heights.