What Are The Key Elements For A User Friendly Electrician Website?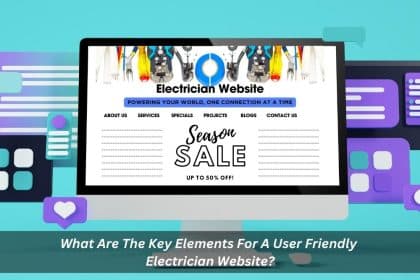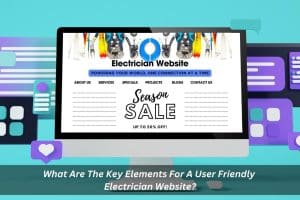 In today's digital era, having a robust online presence is vital for businesses' success, and electricians aren't exempt from this necessity. An outdated website design can be a significant setback for attracting and keeping customers engaged. Therefore, a well-crafted and intuitive website serves as the linchpin for drawing and retaining clientele. In this piece, we'll explore the pivotal role a user-friendly electrician website plays and uncover the critical elements contributing to its effectiveness. Moreover, we'll offer insights into acquiring top-notch electrical website design while highlighting where to find dependable electrician website design services.
Why is a user-friendly electrician website important?
A user-friendly website is a powerful tool for establishing credibility and making a positive first impression. Here's why it matters:
Accessibility:

A user-friendly website ensures that potential clients can easily access information about your services, contact details, and other relevant details. It eliminates

frustration

and encourages visitors to explore further.

First impressions:

Your website is often the first interaction a potential customer has with your business. A user-friendly design creates a positive first impression, reflecting professionalism and reliability.

Mobile responsiveness:

With the increasing use of smartphones, a mobile-responsive website is essential. A user-friendly electrician website should provide a seamless experience across various devices, ensuring that potential clients can access information anytime, anywhere.

Search Engine Optimisation (SEO):

Search engines favour user-friendly websites. A well-optimised site with relevant content,

easy navigation

, and fast loading times is more likely to rank higher in search results, increasing visibility and attracting more potential clients.
What essential components contribute to the user-friendliness of an electrician's website?
Creating a user-friendly electrician website involves incorporating key components that enhance the overall experience for visitors. Here are the essential elements:
Clear navigation:

A straightforward navigation menu is critical for guiding visitors through your website. Ensure that key pages, such as services, contact, and about us, are easily accessible. Intuitive navigation prevents users from getting lost and encourages them to stay on your site longer.

Contact information:

Displaying clear and easily accessible contact information, including phone numbers and email addresses, builds trust. Potential clients should be able to reach out to you effortlessly for inquiries or service requests.

Service details:

Clearly outline the services you offer. Provide detailed information about each service, including pricing if possible. Transparent information helps potential clients understand what to expect and sets realistic expectations.

Testimonials and reviews:

Showcase positive testimonials and reviews from satisfied clients. This adds credibility to your services and reassures potential clients that they are making the right choice.

High-quality images:

Include high-resolution images of completed projects, your team, and any relevant certifications. Visual content enhances the overall appeal of your website and gives visitors a glimpse into the quality of your work.

Fast loading times:

In a fast-paced digital world, users expect websites to load quickly.

Slow loading times

can lead to frustration and prompt visitors to leave your site. Optimise images, minimise unnecessary plugins and choose a reliable hosting provider to ensure fast loading times.

Responsive design:

As mentioned earlier, a responsive design is crucial. Ensure that your website looks and functions well on various devices, including smartphones and tablets. This is not only for user experience but also for SEO purposes.
How can you get the best electrical website design?
Getting the best electrical website design involves a strategic approach to creating a visually appealing and functional online platform. Here's a brief guide on achieving this:
Define your goals:

Clearly outline your business goals and the purpose of your website. Whether it's lead generation, brand awareness, or showcasing your portfolio, understanding your objectives will guide the design process.

Understand your audience:

Identify your target audience and tailor your website design to cater to their preferences. Consider factors such as age, location, and the specific services they are seeking.

Simplicity is key:

Keep the design simple and uncluttered. Avoid overwhelming visitors with excessive text or

complicated layouts

. A clean and straightforward design enhances user experience.

Professional branding:

Consistent branding is crucial for a professional look.

Use a cohesive colour scheme

, incorporate your logo, and maintain a consistent tone throughout your website.

Quality content:

Content is king. Ensure that your website has well-written, informative content that resonates with your target audience. Use high-quality images and incorporate relevant keywords to improve SEO.
How can you find electrician website design services?
When it comes to finding electrician website design services, it's essential to partner with professionals who understand the unique needs of your industry. Here's a quick guide on where to look:
Online platforms:

Explore online platforms to find freelance web designers with experience in creating websites for electricians. Review their portfolios and read client feedback to ensure they are a good fit for your requirements.

Local web design agencies:

Consider partnering with a local web design agency that specialises in creating websites for small businesses, including electricians. A local agency can provide personalised service and better understand the specific needs of your target market.

Networking and referrals:

Reach out to fellow electricians or small business owners for recommendations. Personal referrals can be valuable in finding reliable and skilled website designers who have a proven track record in your industry.

Online reviews:

Research and read online reviews of website design services. Platforms like Google My Business, Yelp, or industry-specific forums can provide insights into the experiences of other businesses that have worked with a particular designer or agency.
Conclusion
In summary, a user-friendly electrician website is a valuable asset for attracting and retaining clients in the digital age. By incorporating clear navigation, contact information, service details, testimonials, high-quality images, fast loading times, and a responsive design, you can create a website that enhances user experience and establishes trust. When seeking the best electrical website design, define your goals, understand your audience, keep the design simple, maintain professional branding, and prioritize quality content. Whether you choose to hire freelancers online, collaborate with local agencies, or rely on recommendations, finding the right website design services is crucial for the success of your online presence.
Discover the power of a user-friendly electrician website with Nifty Websites Australia. As experts in crafting visually appealing and functional online platforms, we understand the importance of clear navigation, compelling content, and responsive design in creating a positive user experience. Elevate your online presence with our tailored website design services, ensuring that your potential clients can easily access information, contact you effortlessly, and explore your services seamlessly across various devices. Let us transform your digital storefront into a compelling showcase of your expertise. Whether you're a solo electrician or a small business, Nifty Websites Australia is your partner in building a website that not only meets the key elements for user-friendliness but also sets you apart in the competitive digital landscape. Take the first step towards a standout online presence – contact us today for a consultation!