Why Is Your Conversion Rate Low On Your Ecommerce Website?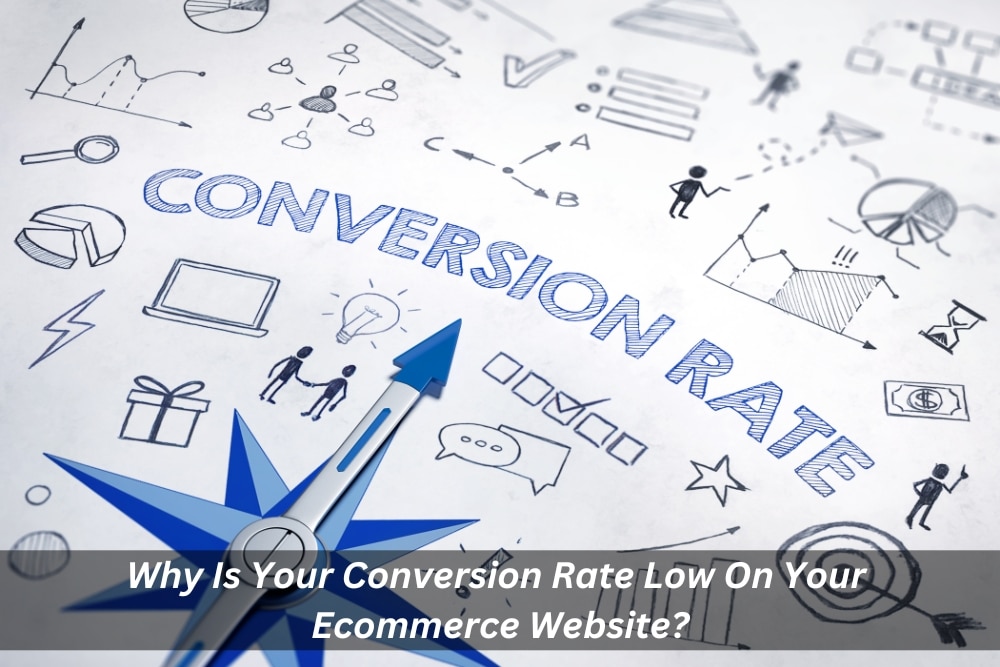 Are you puzzled by the reasons for a low conversion rate on your e-commerce website? Many ecommerce businesses face the challenge of attracting visitors to their online stores but struggle to convert them into customers. While various factors contribute to this issue, one crucial aspect to consider is your ecommerce website design. A poorly designed or outdated website can deter potential buyers, leading to a lower conversion rate. In this blog post, we will explore the significance of a well-designed website for your ecommerce store. Also, how it can help boost conversions, especially for small businesses using an ecommerce platform.
What could be causing a low conversion rate?
Poor Website Design:

Your website design can have a major impact on your conversions. A cluttered, difficult-to-navigate website will discourage visitors from taking any action. If you're not using contemporary web design elements, your website may look outdated and unappealing to potential customers. Make sure that your website looks modern, attractive and easy to use in order to encourage visitors to take the desired action.

Unclear Product Descriptions:

If you are selling products online, it is important to provide clear product descriptions that accurately describe the features of each product. Many customers won't buy something unless they have all the information they need about it. So make sure that each product page has detailed information.

Poorly Optimised Content for Search Engines:

If your e-commerce website is not properly optimised for search engines, it will be difficult for potential customers to find you. Make sure that you are using the right keywords and phrases in your content to maximise your visibility on the web.

Lack of Focus on Landing Pages:

The goal of each ecommerce landing page should be clear

– to encourage visitors to take a specific action (such as signing up for an email list or completing a purchase). Each page should have relevant, compelling content that encourages visitors to take the desired action.

Not Understanding Your Website Visitors:

Knowing who your target audience is, and what they want from your website, is essential for success. Without this knowledge, you won't be able to create content and offers that are tailored to your visitors' needs.

Lack of Social Proof:

Social proof (such as customer reviews and ratings) is essential for any e-commerce business. Customers want to know that other people have had a positive experience with your products and services. So, make sure that you prominently display social proof on your website.

Not Utilising the Right E-commerce Platform:

Choosing the right e-commerce platform can make a huge difference in your conversion rate. Make sure you select a platform that is easy to use and has features. Such as payment integrations, analytics and reporting capabilities.
What are some tips to improve the conversion rate?
Streamline Your Website Design:

Simplicity is key when it comes to website design. Make sure that your website is clean and uncluttered, with easy-to-navigate menus, large call-to-action buttons and an optimized checkout process.

Optimise Product Pages:

Your product pages should be well organised and include all the information customers need to make an informed decision. Don't forget to add a few images or videos of the product in action, so customers can get a better idea of how it works.

Focus on Mobile Users:

Mobile traffic has grown significantly in recent years and now accounts for more than half of global web traffic. Make sure that your e-commerce website is optimised for mobile devices. So, customers can easily browse and purchase your products on their phones or tablets.

Incorporate Calls to Action:

Make sure your website has plenty of calls-to-action (CTAs), such as the "Add to Cart" or "Buy Now" buttons. Make them visible and easy to find, so visitors don't have to search for them.

Track Your Performance:

Keep track of your average conversion rate, as well as the individual performance of each page and product. This will help you identify any areas that need improvement, so you can adjust your strategies accordingly.
By identifying the reasons for a low conversion rate and implementing the tips above to understand the factors that affect your e-commerce conversion rate, you can improve your website's ability to convert visitors into customers and ultimately reach your business goals.
Conclusion
To summarize, the reasons for a low conversion rate on e-commerce websites include unclear product descriptions, lack of focus on landing pages, not understanding your website visitors, lack of social proof, not utilising the right e-commerce platform, and poor website design. To improve your conversion rate, you should streamline your website design.  You should also optimise product pages for mobile devices, incorporate calls to action, and track your performance.
Are you struggling with low conversion rates on your e-commerce website? Let Nifty Websites Australia help you identify the problem areas and provide effective solutions to improve your conversion rates. Our team of experts specialises in optimising e-commerce websites for maximum conversions, and we can help you achieve your business goals. Contact us today and take the first step towards increasing your online revenue.