How Do You Analyse A Website In Terms Of Its Design And Layout?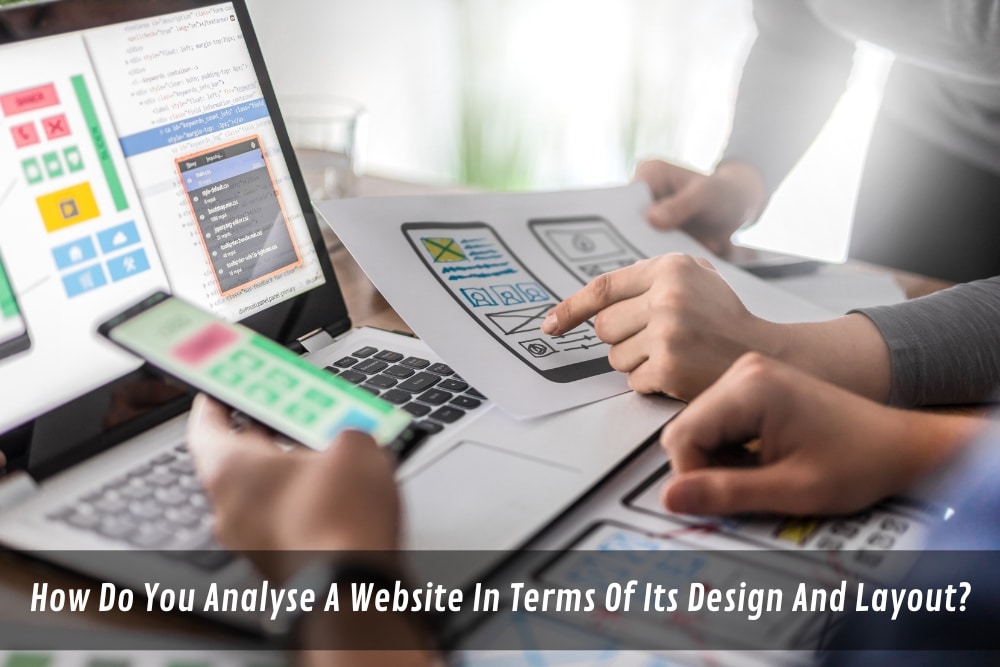 A website design and layout should be taken into consideration when deciding how to improve its performance. By understanding the style, overall aesthetics, usability, and content structure, you can optimise a website for success. But how do you analyse a website to understand all of these elements?
Whether it is creating a new website or revamping an old one, web designers need to have an eye for details in order to ensure everything looks just right. From understanding the fonts used on the page to making sure images are correctly sized and placed just right on any given page – there is a lot that goes into creating successful websites.
Looking at a website from a design perspective requires some technical knowledge and experience. However, there are several aspects of the design and layout of the website that can be assessed without being an expert web designer. Through this article, we will explore some tips for analysing a website in terms of design and layout so that you can make informed decisions on improving user experience.
What are website layout and design?
Website layout and design refer to the arrangement of visual and structural elements on a website. The layout is the way that the content on a website is organised and presented. While the design refers to the visual style and aesthetics of the website.
What are the elements of website layout and design?
Website layout typically includes elements such as the header, footer, navigation menu, and content sections. These elements are arranged in a way that is visually appealing and user-friendly. With the goal of making it easy for visitors to find the information, they are looking for.

Website design includes elements such as colour schemes, typography, graphics, images, and videos. These elements are used to create a cohesive and visually appealing look and feel for the website. Design elements can be used to reinforce the brand identity of a business or organisation. Also, to create a memorable and engaging user experience for website visitors.
Overall, a well-designed website is crucial for creating a positive user experience. Building credibility and trust with visitors, and encouraging engagement and conversions.
What is the importance of website layout and design?
Website layout and design are important for several reasons:
User Experience (UX):

A well-designed website layout helps users navigate and interact with the site easily. A good UX design helps to keep visitors engaged and encourages them to spend more time on your site.

Branding:

It is important for creating a strong brand identity. The layout and design elements should be consistent with your brand's values, colours, and tone of voice.

Visual Appeal:

A visually appealing website can attract and retain visitors. A good design can convey professionalism, trustworthiness, and a sense of quality to your audience.

Conversion Rates:

It can also impact conversion rates. A well-designed site with a clear layout and easy navigation can lead to more conversions, such as sign-ups, purchases, or downloads.

Search Engine Optimisation

(SEO):

The layout and design of your website can also impact your search engine rankings. A well-structured website with proper heading tags, alt tags, and meta descriptions can help search engines understand your content better and improve your visibility in search results.
In summary, website layout and design are crucial to creating a positive user experience, building a strong brand, increasing conversion rates, and improving search engine rankings.
How to evaluate the quality of your website?
Evaluating the quality of your website layout and design is essential to ensure that it is effective in achieving its goals. Here are some steps to evaluate the quality of your website:
Evaluate the visual appeal:

Assess the visual appeal of the website design. Does it look professional and visually appealing to the target audience? Does it match your brand and messaging?

Check responsiveness:

Test the website on different devices. Check if it is responsive and adjusts according to the screen size of the device.

Evaluate usability:

Check the usability of the website design by analysing if it is easy to navigate. If the user flow is intuitive and if it is easy to find information.

Review the content:

Review the content on the website to ensure that it is well-written, informative, and easy to read.

Assess website speed: Check website speed using tools like Google PageSpeed Insights to ensure that the website loads quickly.
Analyse the user experience

: Collect feedback from users to analyse the user experience of the website design.

Check for consistency:

Ensure that the design elements are consistent throughout the website, including the colour scheme, typography, and layout.

Evaluate accessibility:

Ensure that the website is accessible to all users, including those with disabilities, by following accessibility guidelines.

Review analytics: Use analytics tools like Google Analytics to monitor the performance of the website and track user behaviour.
By evaluating the quality of your website layout and design, you can make necessary changes to improve user experience, increase engagement, and achieve your website's goals.
What practices will work best for your website?
Here are some best practices for website layout and design:
Keep it simple:

A simple and clean design with a clear order and organised layout is essential for a good user experience.

Use responsive design:

A responsive website design that adjusts to different screen sizes and devices is essential for accessibility and user experience.

Prioritise visual design:

Visual design elements such as typography, colours, images, and videos can create an emotional connection with users and improve engagement.

Use negative space:

Negative space can create breathing room for the eyes. It makes the website feel less cluttered, improving the user experience.

Use hero images:

A hero image is a large banner or image that appears at the top of a webpage. Providing a visual representation of the website's purpose or message.

Use a consistent colour scheme:

A consistent colour scheme throughout the website can help create a cohesive design and brand identity.

Use search engine optimisation (SEO):

Following SEO best practices such as using keywords, meta descriptions, and alt tags can improve the website's visibility and ranking on search engines.

Use an easy-to-use navigation menu:

The navigation menu should be intuitive and easy to use. Helping users find what they're looking for quickly and easily.

Use real estate effectively:

The space on a website should be used effectively, prioritising important content and calls to action.

Use analytics tools:

Analytics tools such as Google Analytics can provide valuable insights into user behaviour and website performance, helping you improve the website layout and design.
By following these best practices, you can create an effective website that improves user experience, and engagement and achieves your website's goals.
Conclusion
In summary, analysing a website's design and layout involves evaluating various factors, such as colour scheme, typography, spacing, and content organisation. Different types of web developers, such as front-end developers, UI/UX designers, and graphic designers, may have varying levels of expertise in these areas. However, by applying the best practices outlined above you can create an effective website that meets the needs of your users.
Don't let an outdated website design or layout hold your business back. We offer comprehensive website analysis services to identify strengths and weaknesses in your website's design and layout. We provide website packages such as professional web design and personal web design. Also, website development services like full stack developers and custom websites, prioritise website security to ensure your website is protected from potential threats. So, if you want to improve your online presence, call us today to learn more about our website analysis and development services.