How Do You Customise A Website?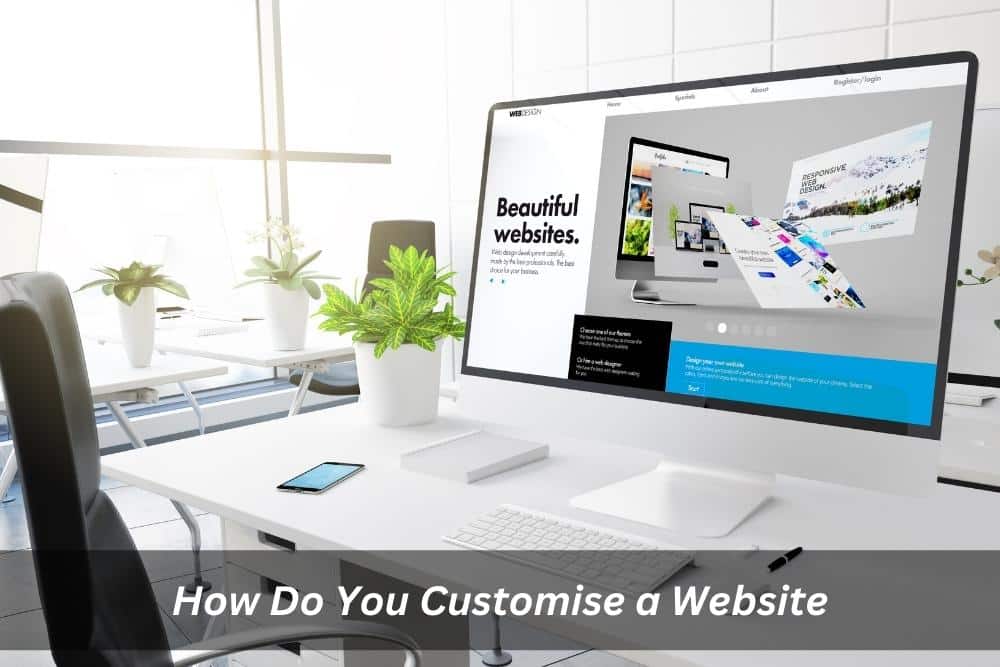 Are you looking to increase your online presence and reach a wider range of customers? The best way to do this is to customise a website. But how can you go about building one?
Having an online presence allows businesses to access markets that would otherwise be difficult to reach. It also allows customers to find you quickly and easily, which is incredibly important for any business looking to grow and attract new customers.
Benefits of Customising a Website
Creating a custom website offers numerous benefits, from increased visibility to improved customer engagement. With a custom website, you can create an online presence that reflects your brand and helps you stand out from the competition. To make your business more accessible, consider adding contact forms, email marketing tools, and SEO optimization. Building a custom website allows you to design it precisely according to your preferences and needs.
If you want to customise a website and you think it is intimidating at first, you are not alone. But by following the steps below, you will have a general idea of how to start and plan your custom website. In this article, we'll discuss the steps involved in creating a custom website from start to finish.
Choose a Website Builder: The first step in creating a custom website is to choose the right website builder. There are many different options available, ranging from free and easy-to-use drag-and-drop builders to more complex and feature-rich platforms. Consider your budget, skill level, and the type of website you want to create before making your decision. Popular choices include WordPress, Weebly, Squarespace, and Wix.
Select a Template: Once you've chosen your website builder, the next step is to select a template. Most website builders offer a wide range of templates to choose from, so take some time to browse through them and find one that best fits your needs.
Customize Your Website: After selecting a template, it's time to customize your website. This includes adding content such as text, images, and videos, as well as setting up features like contact forms and email addresses. Depending on the website builder you choose, you may also be able to customize the look and feel of your website with themes and plugins.
Set Up Your Domain: Once your website is ready to go, it's time to set up a custom domain name. This will help customers find your website more easily and will also give it a more professional look.
Choose a Web Host: The next step is to choose a web hosting provider. This is the company that will host your website on their servers, so make sure you do your research and find one that offers reliable service at an affordable price. Examples are HostGator, and Bluehost.
Launch Your Website: Once you've chosen a web host, it's time to launch your website. This is the final step in creating a custom website, and it's important to make sure everything is working correctly before you go live.
Customising a website doesn't have to be difficult or expensive. By following the steps outlined above, you can create your website with ease – no matter your skill level or budget! With some effort and the right tools, you can quickly have a website that looks professional.
Skills and tools that you will need 
Creating a custom website requires a variety of skills and tools. For starters, you'll need to create a website from scratch and be familiar with HTML and CSS, as these are the two main coding languages used to create websites. Additionally, you may need to have knowledge of other programming languages such as JavaScript, PHP, or SQL.
You'll also need access to various tools and resources in order to build your website.
You'll need a website builder such as WordPress or Wix, which will provide you with the necessary tools and website templates to create your site. Also, you need a domain name and web hosting provider, both of which can be purchased from various online stores. Finally, you may want to consider using SEO tools in order to ensure your website is optimized for search engines.
Once you have all the necessary skills and tools, it's time to start building your website. You'll need to create a design that reflects your brand and provides an intuitive user experience. This includes choosing the right colours, fonts, images, and layout for your website. To be found online, it's important to make sure all the content on your website is optimized for search engines.
Finally, don't forget to add contact information, email marketing tools, and other features that will help you engage with customers and build a successful online presence.
How long does it take to customise a website?
Customising a website can take anywhere from a few hours to several weeks, depending on the complexity of the website and the amount of customization required. Basic websites with few pages and features can be created in a matter of hours. However, complex websites with multiple landing pages, custom features, and design elements will likely require weeks or more to complete.
Do you need professional help to customise a website?
It depends on what you need. Many website builders offer easy-to-use drag-and-drop tools that allow anyone to build their own website without any coding knowledge or experience. However, if you want to create a more complex and high-quality feature-rich website, it may be beneficial to hire a web designer or developer who can help you customize your site and ensure it meets your needs. They can build websites even for small businesses. If you want to get an idea of how much building one could cost you, you can check this blog article. And if you finally decide to hire people to do the work for you, you can check this section for more details.